64th Ex-students' Re-union Utsav 2017-2018
23rd & 24th December

On this occasion we feel proud to say, attracts a large number of former Students and is particularly graced by the presence of a galaxy of Intellectuals, Sports luminaries and other dignitaries.

A few names are suffice to mention here. We have in the list of our Ex- Students the names of prominent figure likes Manishankar Mukherjee , popularly known as Shankar, the emiment writers of Bengali Literature, Ashok Chatterjee & Jahar Das the renowned Footballers who donned the colors of both Mohunbagan & Eastbengal Club. Swapan Sadhan Bose popularly known as Tutu Bose, President of Mohun Bagan Club, Anjan Dutta, Secretary of Mohun Bagan Club.

It is pleasure to inform you that the Late Nemai Sadhan Bose, the famous Historian and the Vice- Chancellor of Viswabharati, Santinekatan, Late Sankari Prasad Bose, eminent writers and Late Dr. Bholanath Chakraborty, the reputed Homeopath Doctor also belonged to our School. There are many other Students who carved their names for themselves as distinguished Doctors, Engineers, IT Professionals, Professors, Teachers, Lawyers & Judges etc.

To commemorate the occasion, we are organizing a variety of programmed that include Songs and Dram by celebrated Artists, Games & Sports, Sit & Draw and Elocution contest by former and present students.

ALL EX- STUDENTS' ARE WELCOME.

For details please visit our website http://www.vivekanandainstitution.com or contact Krishnendu Bhattacharyya, Convenor of HVIEA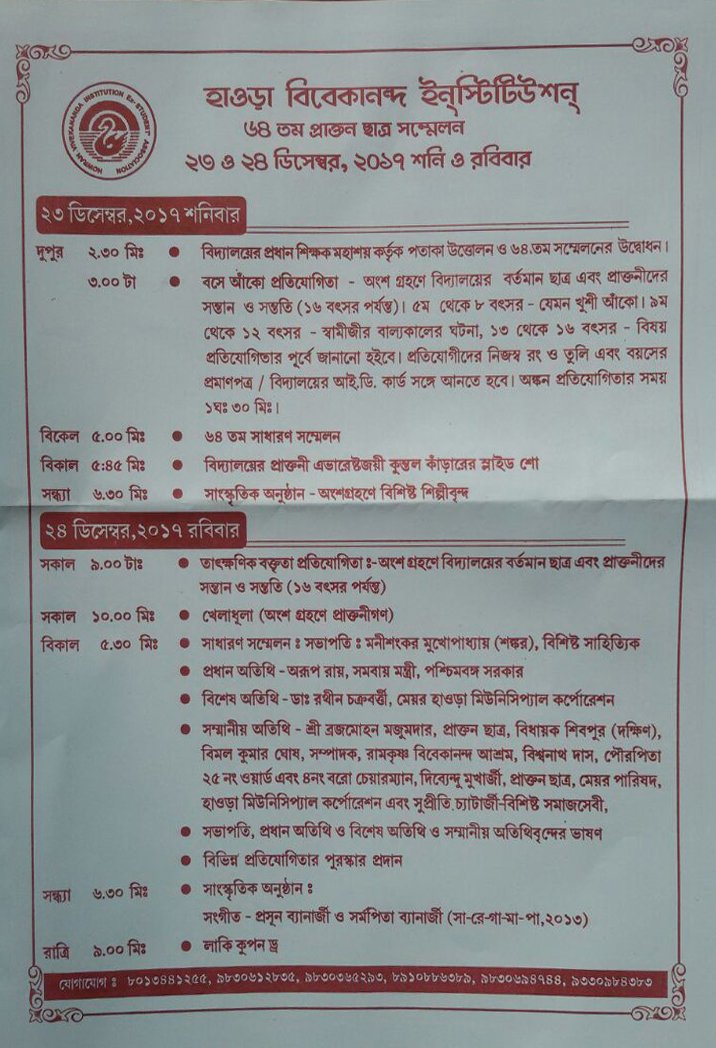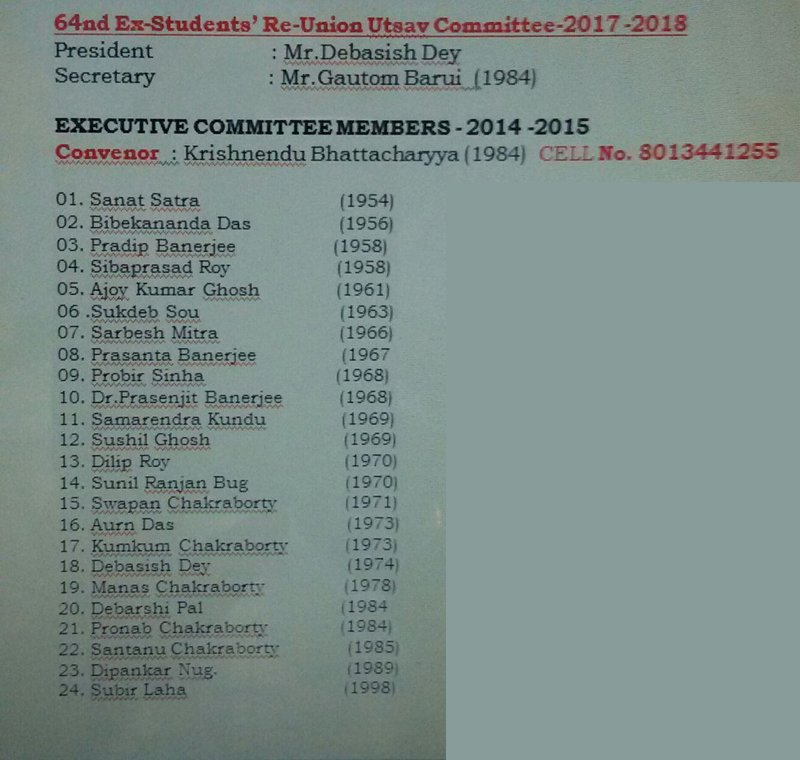 HOWRAH VIVEKANANDA INSTITUTION EX-STUDENTS' ASSOCIATION
(Regd. under W. B. Society Act. REG.No.S/1L/82383)
Regd. Office : 69/1/1, Swami Vivekananda Road, Howrah – 711104
Contact Nos. 98301 31288, 9230690430, 9830694744
Email ID : hviea69@gmail.com
Web Site: www.vivekanandainstitution.com
Convenor: Mr. Krishnendu Bhattacharyya (1984) 98301 31288




-------------------------------------------------------------------------------------------------------------
Prominent Ex-Students
We started our journey with 55 students in 1928. Today our alumni is over hundreds of thousands of students. Many of them became very prominent in their respective fields.
Proposed Amendments to the Constitution - 2009
Recommendation for the amendments of the constitution of Howrah Vivekananda Institution Ex-Students' Association
Scholarships
Over the years, many donors established number of scholarship funds. Meritorious students have been receiving scholarships for many years. We continue the tradition today and we will expand its scope many folds in years to come. For details, click on the button below.
Click here for past reunions.
---
| | |
| --- | --- |
| | Over the years, many donors established number of scholarship funds. Meritorious students have been receiving scholarships for many years. |

| | |
| --- | --- |
| | Two of our headmasters Sudhanshusekhar Bhattacharya and Brajamohan Majumder won government awards as "National Teachers" for their exceptional services... |

| | |
| --- | --- |
| | The teachers who founded the Institution gave equal importance to the development of the students physique along with the teaching learning process. |

| | |
| --- | --- |
| | The Boys' Union started in 1924 with the view of cultivation of literary taste and the setting up of the boys' own library. Later the name of the Boys'... |

| | |
| --- | --- |
| | The Boys' Scout programme started in 1928. It has been continuing till date. The Scouts are entrusted with the duty of maintaining discipline in different school programmes... |

| | |
| --- | --- |
| | Every year around the end of January, we organize our annual reunion. Thousands of alumni get together at this event and share their past memories of our school enjoy the... |